This Banana Bread Recipe is by far the best vegan Banana Loaf recipe I have come up with, and I have made a lot of bread! Eggless and made with wholemeal flour, this delicious banana bread is light, soft, and perfectly sweet. One of my most popular baking recipes tried successfully by many of our readers.
About This Banana Bread Recipe
Banana Bread Recipe is an all-time personal family favorite. When I find myself pressed for time, which happens often, I throw this quick recipe together with overripe bananas and other pantry staples.
It's no surprise that this vegan banana bread is one of the most popular baking recipes on my blog, alongside my mouthwatering Banana Cake and Chocolate Cake recipes.
About 9 years ago, I started to get requests for an eggless version of the classic banana bread recipe. And I tried — I tried many, many times to make the absolute best eggless banana bread — and I failed at least 6 times before finally getting it right!
Making an eggless or vegan cake or bread is always a challenge, as one wants the best texture and taste in the bread. I succeeded at making eggless and vegan versions, but I was never quite satisfied with the texture of the loaves.
I tried adding vinegar, buttermilk, cornflour and so many other ingredients, but it just never came to that perfect, moist bread. The loaf kept ending up dry and soft, but a bit dense and even crumbly at times.
So one day, I decided that I would simplify my ingredients list and that I would only use items that were easily available in my kitchen.
I even realized that I could puree bananas and use that as an egg substitute — which works perfectly for banana bread. Well, I added just bananas, oil and a few other ingredients from my pantry and the result was (finally) a moist, light, and soft eggless banana bread.
What ingredients should I use in Banana Bread Recipe?
Flour: I have made the bread with organic whole wheat flour, but if you want you can make the bread with all-purpose flour or half-half of both the flours. You can also use cake flour or pastry flour.
Sugar: You can use brown sugar, organic unrefined cane sugar or granulated white sugar — all work well in this recipe.
Oil: You can use any neutral flavored oil for this recipe. I have made this bread on various occasions with a variety of oils, including coconut oil, safflower oil, sunflower oil, rice bran oil and even olive oil.
Flavorings: I added cinnamon powder, nutmeg, and vanilla extract to this vegan banana bread, but both the cinnamon and nutmeg are optional.
Sunflower Seeds: I have added sunflower seeds in the bread to make it more nutritious. However, you can easily skip adding them or add your favorite edible seeds or nuts.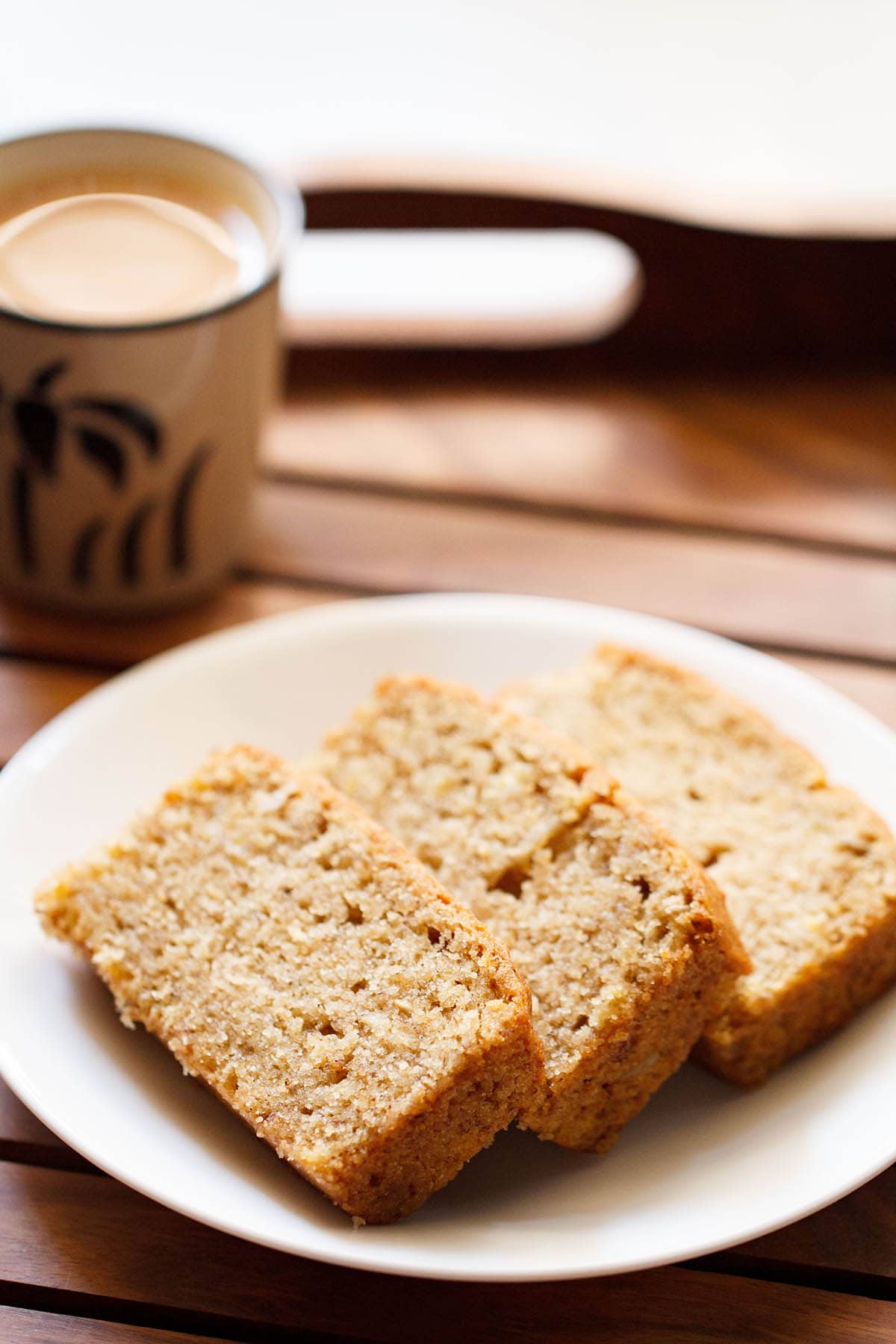 Step-by-Step Guide for Banana Bread Recipe
How to make Banana Bread Recipe
Prep Oven and Make Banana Puree for Banana Bread Recipe
1. First preheat your oven to 180 degrees Celsius (350 degrees Fahrenheit) for 20 minutes. Next, while the oven is preheating, slice your ripe or overripe medium to large bananas into a mixing bowl.
Tip: I typically use about 4 medium or 2 large bananas for this recipe. In weight, the bananas (with their peels) are 300 grams or 10.5 ounces.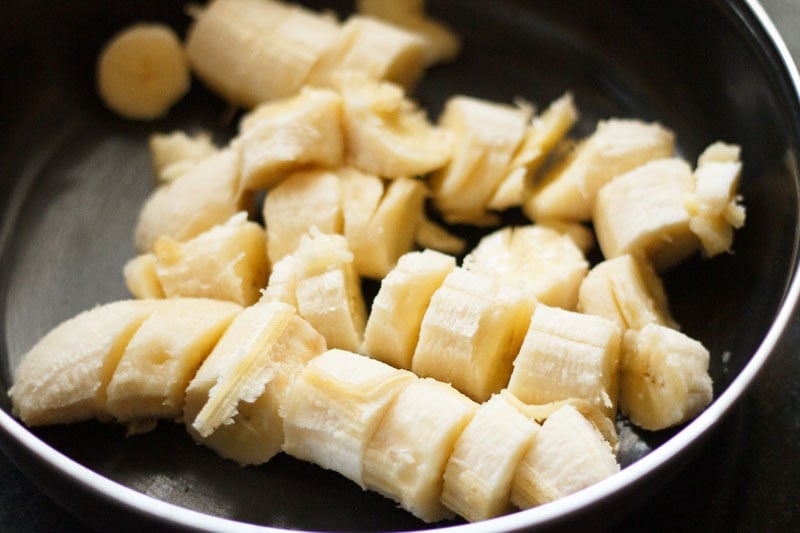 2. Then, add ⅓ to ½ cup sugar, depending on the sweetness of your bananas. Here I have used raw sugar, but feel free to add brown sugar, white sugar, coconut sugar, palm sugar, maple syrup or jaggery (Indian unrefined cane sugar).
With palm sugar, coconut sugar, maple syrup and jaggery the flavors will be different.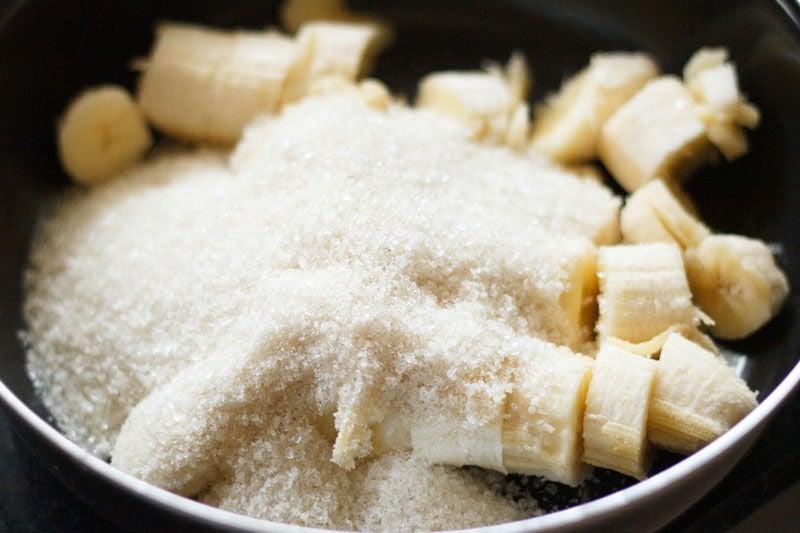 3. Next, use a masher or fork to mash the bananas into a smooth consistency. If you prefer, you could also puree the bananas with sugar in a blender.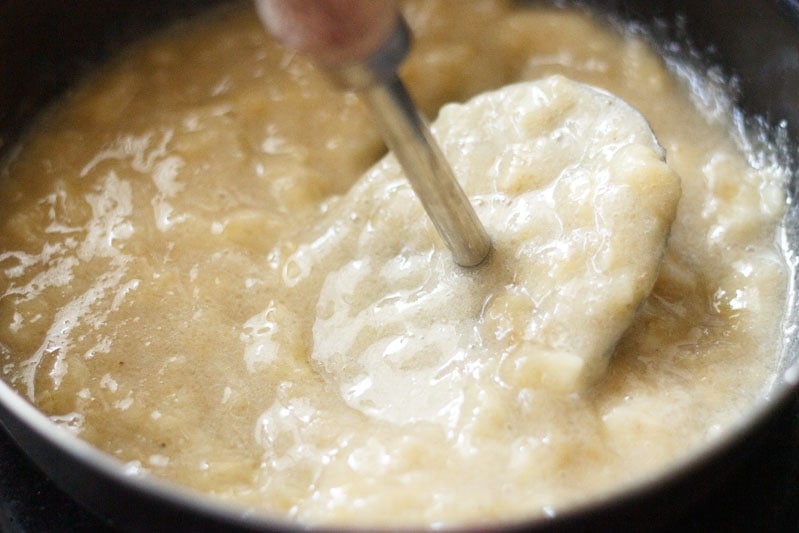 Tip: There should be no chunks left in the puree. However, fine threads of bananas in the mixture are fine. Additionally, you can use a blender to mash the bananas if needed.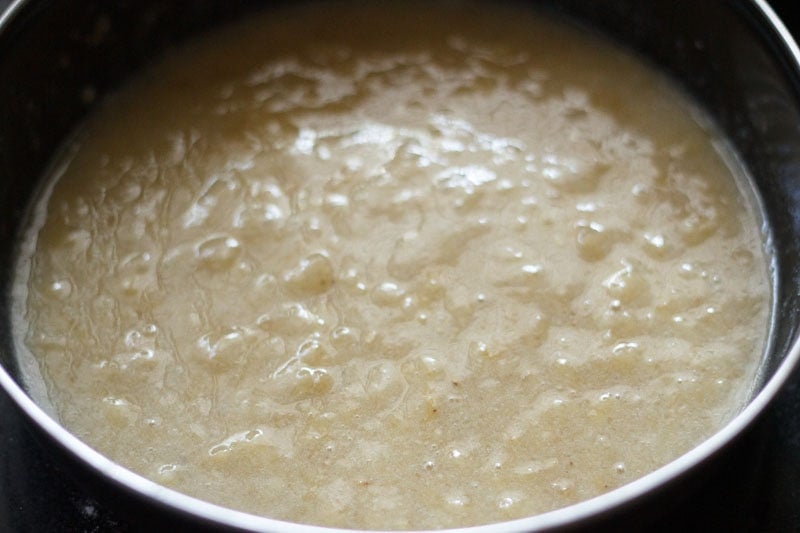 5. Add ½ cup of oil to the mashed banana mixture. Use a neutral flavored oil, so that the after taste of oil is not felt in the bread. I prefer to use sunflower oil.
On various occasions I have also used coconut oil. But with coconut oil, on refrigeration the texture becomes dense as the coconut oil solidifies. So keep a note of this.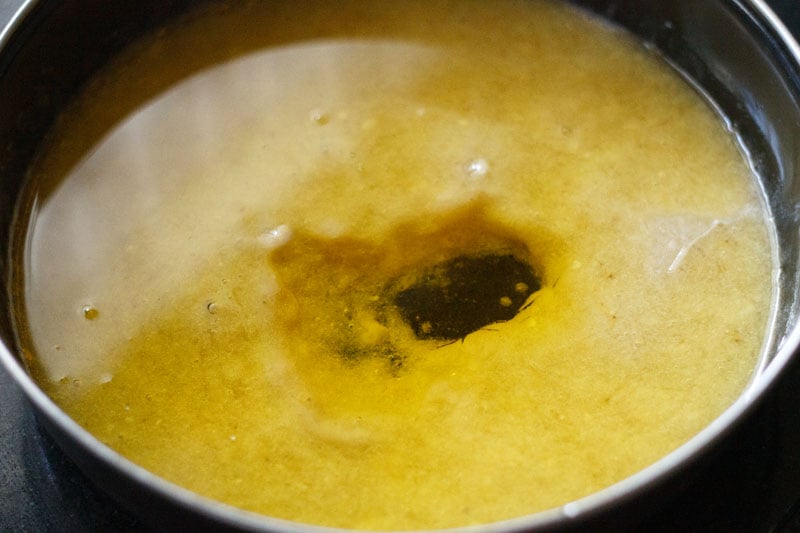 6. Now, stir briskly for about 2 to 3 minutes with a wired whisk or a spatula so that the oil mixes evenly with the banana puree.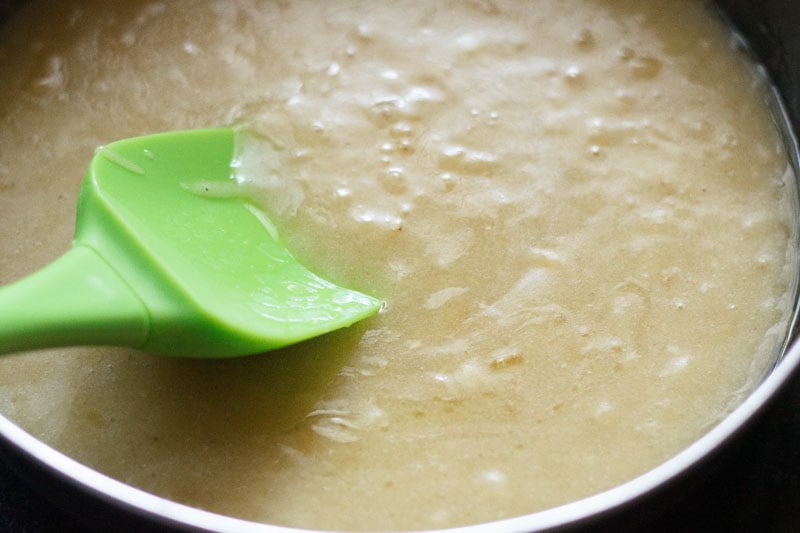 7. Finally, stir in the following flavorings to your oil and banana puree:
¼ teaspoon cinnamon powder (ground cinnamon)
2 to 3 pinches or ⅛ teaspoon of grated nutmeg or ground nutmeg powder
½ teaspoon vanilla powder or 1 teaspoon vanilla extract
Tip: That being said, both the cinnamon powder and nutmeg powder are optional.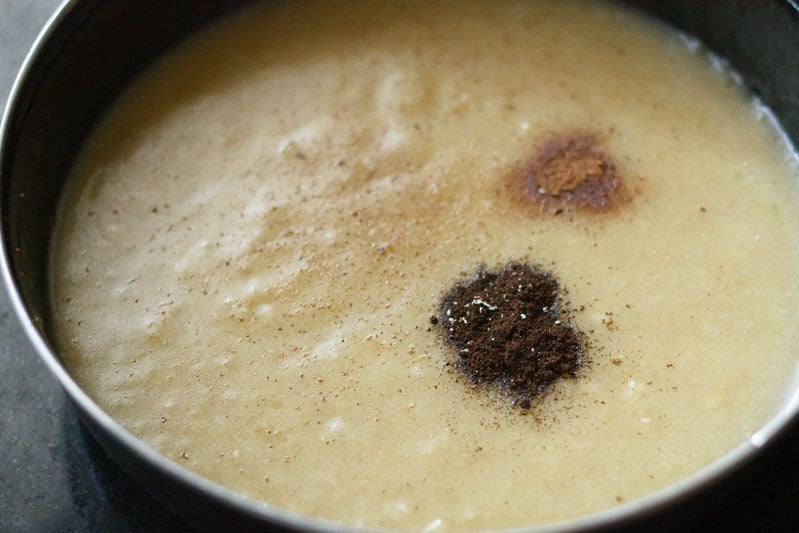 8. Next, combine the flavoring spices and vanilla with the banana oil mixture. Stir and mix well!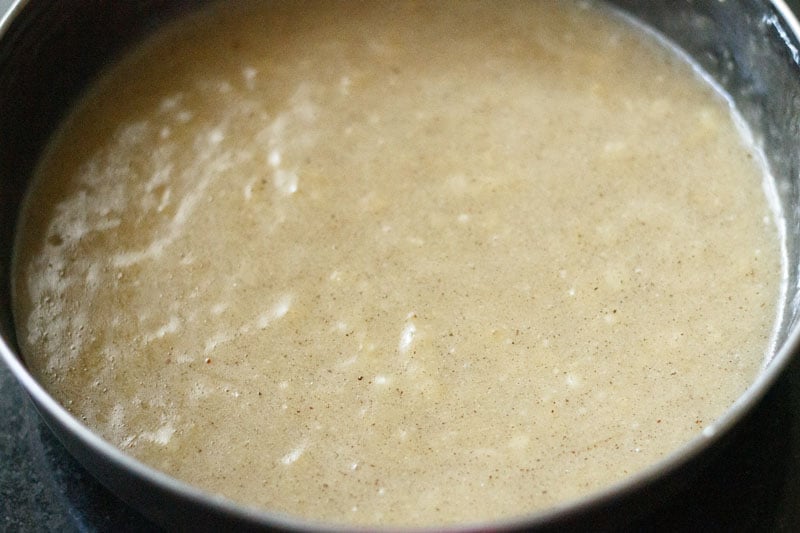 Make Banana Bread Batter
9. Sieve 1.5 cups whole wheat flour (about 180 grams), ½ teaspoon baking soda, 1.5 teaspoon baking powder and a pinch of salt directly in the bowl.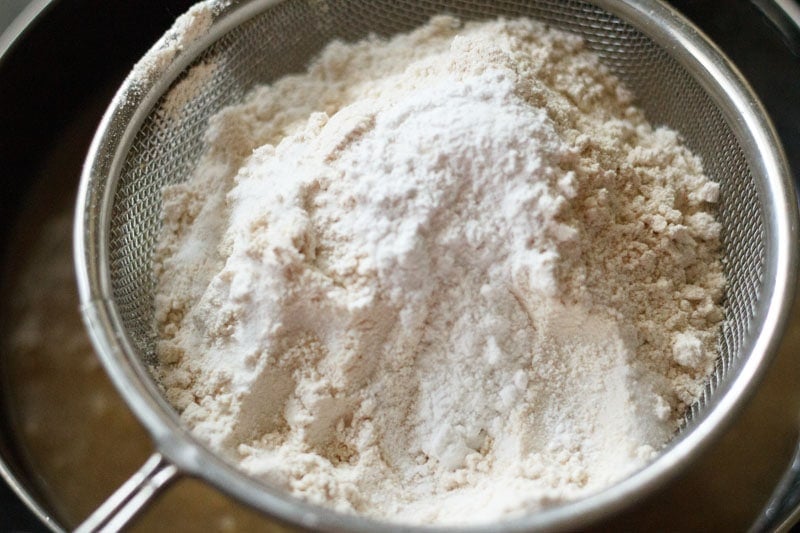 10. Make sure the sieved dry mixture sits evenly on top of the wet mixture (pictured below).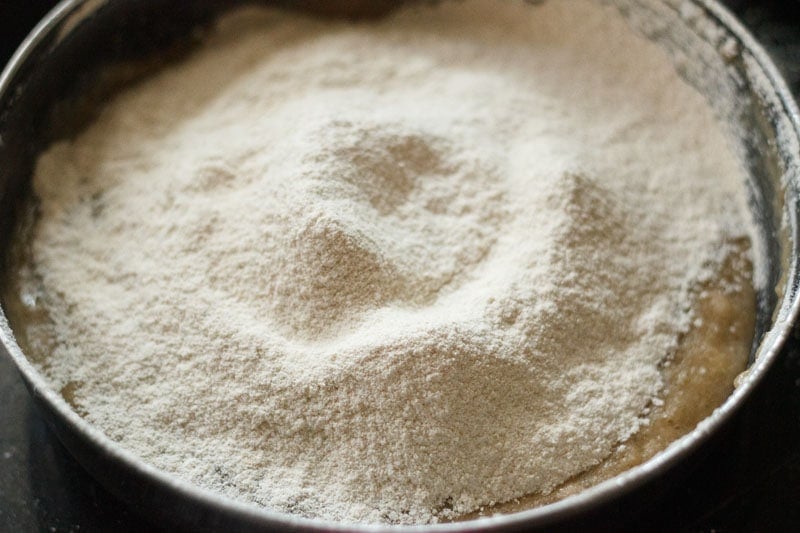 11. After that, gently fold the dry ingredients into the wet ingredients — don't mix!
Tip: This folding step is most important — you want the whole bread mixture to be combined into one and mixed evenly, but you also want to avoid stirring because that will deflate the batter.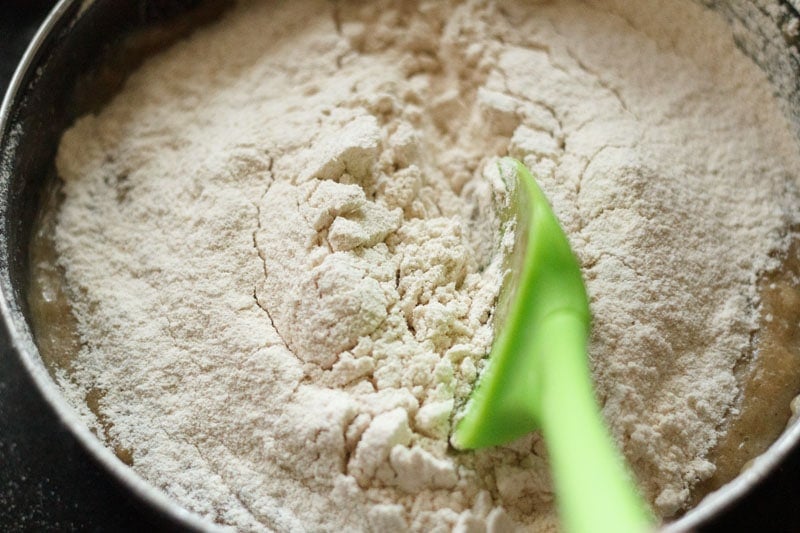 12. The folded batter should be fully combined but not flat (pictured below) and will have a thick consistency.
Note 1: Ensure that you do not overwork the batter as this will cause gluten strands to form in the batter which result in a doughy texture after baking. The batter should have volume and not look flat or stringy.
Note 2: If in case the batter looks very thick or dry then add about ¼ to ⅓ cup of water or preferred nut milk. Depending on the type of wheat flour, sometimes more liquids will be needed to get the right consistency.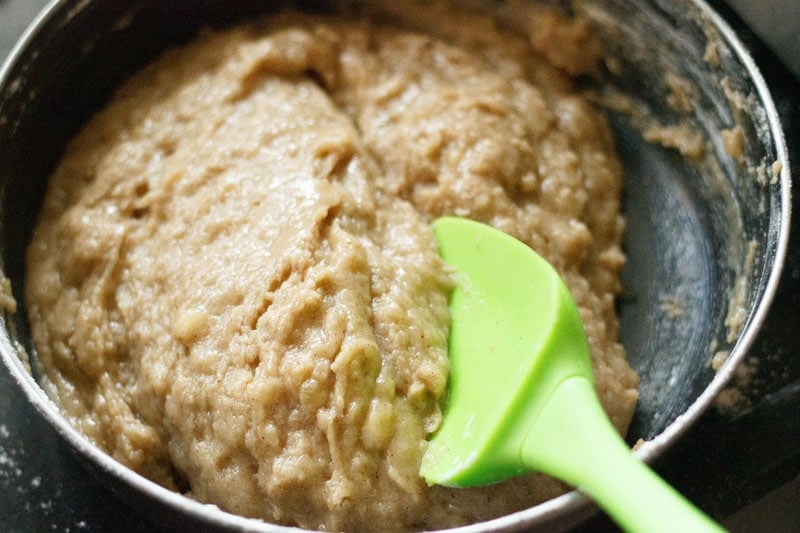 13. This step is optional, but I always like the extra flavors nuts, seeds, or other ingredients add to vegan banana bread.
For this recipe, I included about 2 tablespoons of sunflower seeds, but you can also add chopped walnuts, chocolate chips or any dry fruit or nuts of your choice like I have done in the video.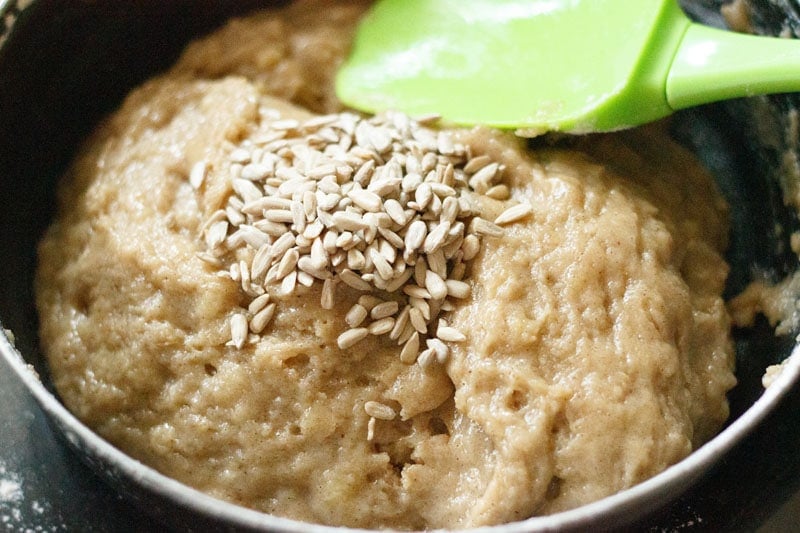 14. Fold the batter gently once again until the sunflower seeds are fully incorporated.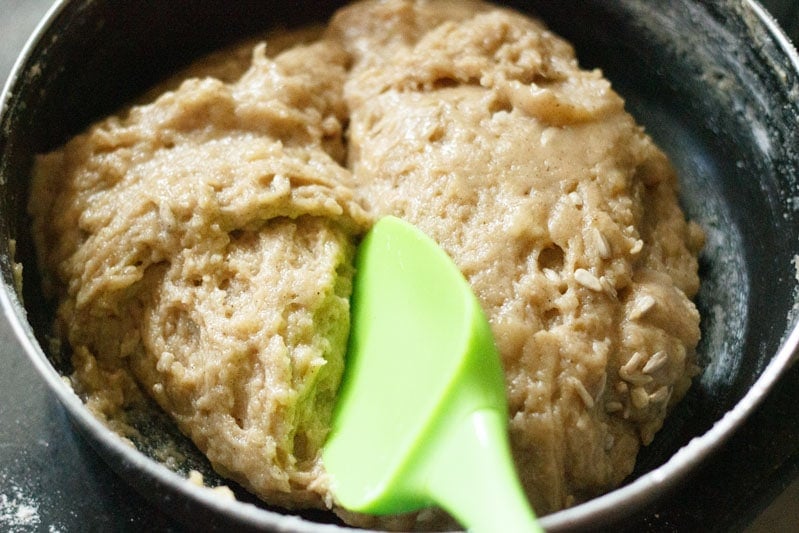 Bake Eggless Banana Bread
15. Pour the batter into a greased or lined loaf pan (8 x 4 x 2.5 inches) or a round cake pan (8 x 2 inches). Bake at 180 degrees Celsius (350 degrees Fahrenheit) for 30 to 40 minutes or until a toothpick inserted in the bread comes out clean.
Tip: The temperature varies from oven to oven, so keep a close eye on your banana bread. Be careful NOT to open the oven until the bread is ¾ done.
When in doubt, use a skewer or toothpick — the benchmark is that a bamboo skewer inserted in the bread should come out clean with no wet or sticky batter clinging on it.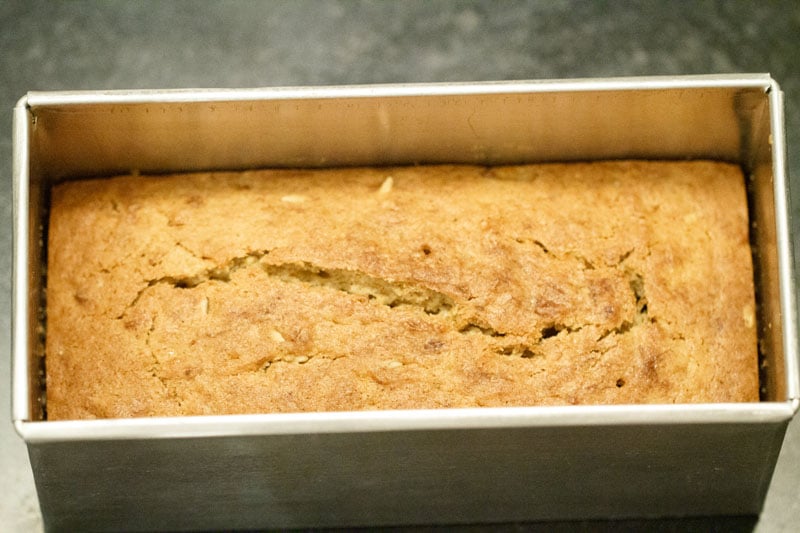 16. Place the loaf pan on a wired rack for the bread to cool. When the bread cools down, then remove the loaf from the pan.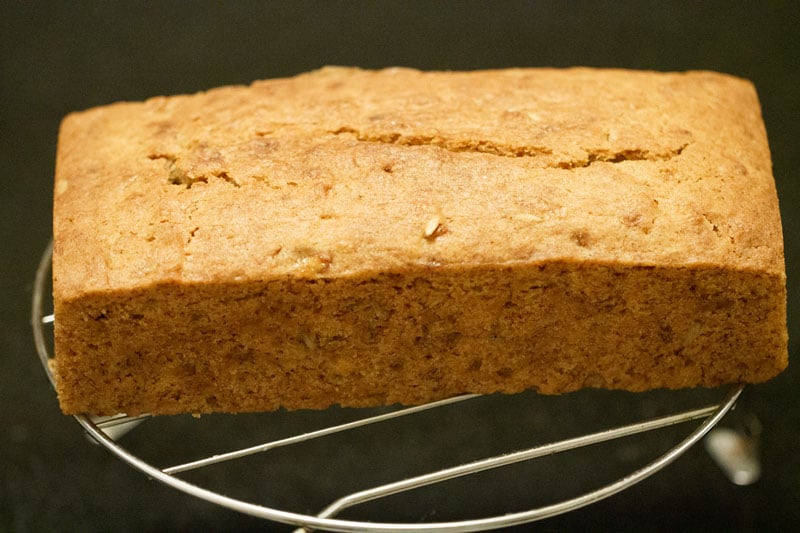 17. Slice and serve your Eggless Banana Bread Recipe as is with tea or coffee or as a sweet snack.
The remaining loaf, you can wrap in a cling film or keep in an air-tight box in the fridge for about more than a week. Warm the bread before serving.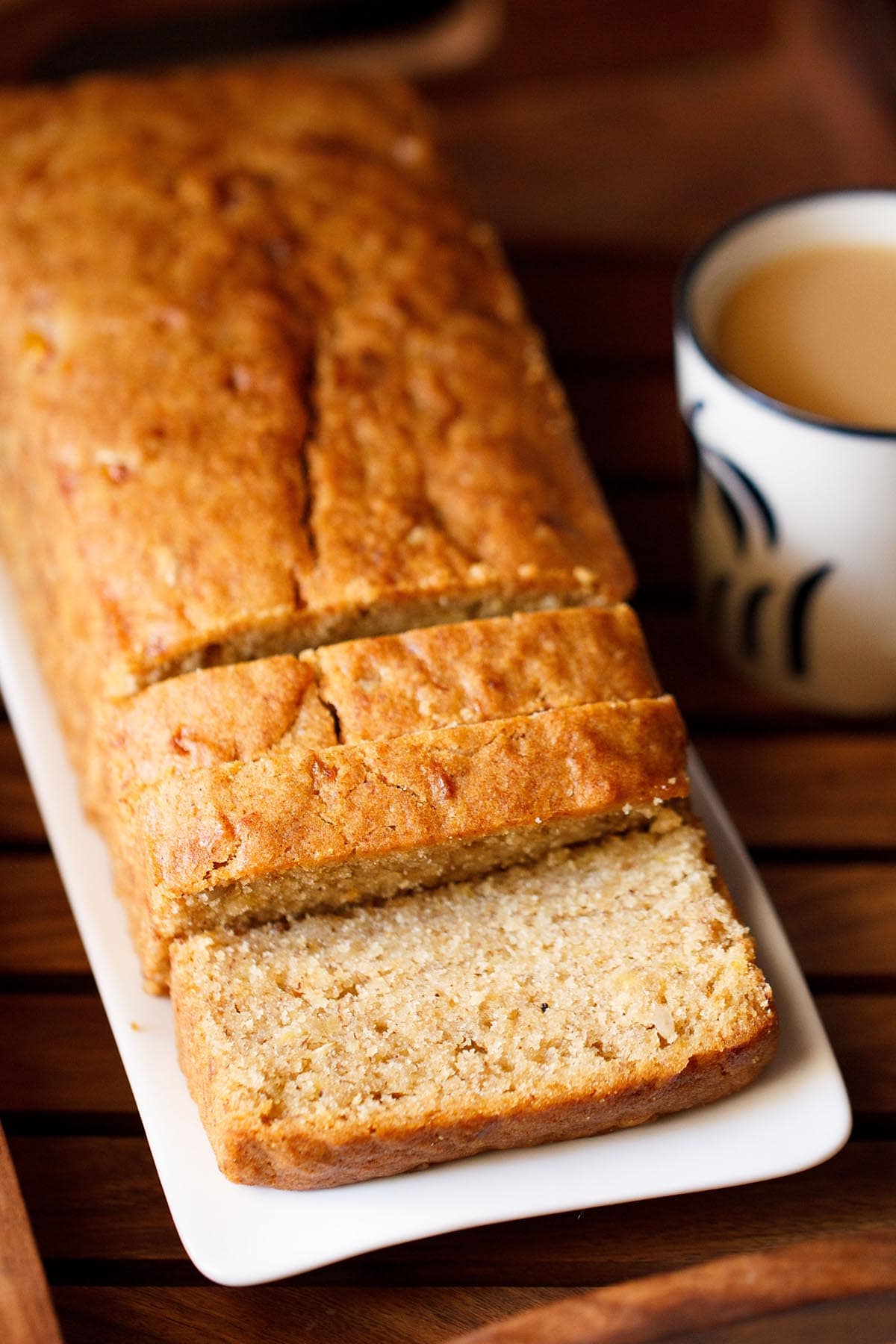 Expert Tips for Banana Bread Recipe
Warm before serving: If coconut oil is added to the bread, it solidifies when refrigerated, hence the bread also becomes dense when you refrigerate it. So before serving just warm up the bread, and it will have its natural texture back.
Adjust sweetness: Sweetness of the bread can be adjusted as per your preferences.
Keep it simple: You can skip adding sunflower seeds.
Flour options: I have made the banana bread with whole wheat flour, but if you want you can make it with all purpose flour or half-half of both the flours.
Bake time: The timing varies from oven to oven. Depending on the temperature in your oven and the size of your pan, the bread might take less or more time than what I have listed in this recipe.