This easy (one-bowl!) Eggless Chocolate Cake Recipe is a simple vegan recipe you're sure to come back to time and again. Unbelievably soft and light, you won't believe that this decadent, chocolatey sponge cake is actually made with healthy whole wheat flour. Make this Chocolate Cake today (with or without frosting) following my video and detailed recipe with stepwise photos.
About Eggless Chocolate Cake Recipe
Soft, moist and deeply chocolatey, this eggless Chocolate Cake Recipe makes an excellent starting point for a multitude of chocolate cake-based desserts and a perfect vehicle for any number of delicious frostings. In fact, I make my Black Forest Cake from this spongy vegan chocolate cake recipe!
Not only does this recipe taste good, it is also quite a bit healthier than your classic chocolate cake. Don't worry though. Even though healthier ingredients are used, this sponge cake still has a soft and moist texture. So yes, my friends. You can have your cake and eat it too. You're quite welcome!
My eggless chocolate cake is also super easy to put together. Made in just one bowl and without a mixer, this cake batter is a lazy baker's dream! With just about 10 minutes of active prep time, you can have a rich, dark, delectable chocolate cake in the oven. How amazing is that?
You'll have to bake this eggless cake to really believe it – it's insanely moist, perfectly spongy and is just the thing to cure your chocoholic cravings.
And while you're more than welcome to serve this it plain, I've also included a recipe for a vegan chocolate glaze. As I'm sure you've guessed, it tastes better with the chocolate frosting!
About Chocolate Cake Recipe
Making Eggless Cakes Recipe is always a challenge as it can be hard to achieve the perfect, light consistency we associate with good cakes without using eggs.
Adding to that challenge, the addition of whole wheat flour can often cause a cake to be much denser and stodgier than those made with all-purpose flour.
The secret to achieving the light and spongy consistency in this vegan chocolate cake is the reaction between the baking soda and lemon juice.
These two ingredients work together to cause the cake to rise perfectly, giving it the soft, moist texture that we're looking for.
NOTE: This recipe may resemble chocolate wacky cake, but it is not the same. The recipe proportions for this eggless chocolate cake are different from the wacky cake. My eggless chocolate cake also uses whole wheat flour and cold water unlike in a whacky cake.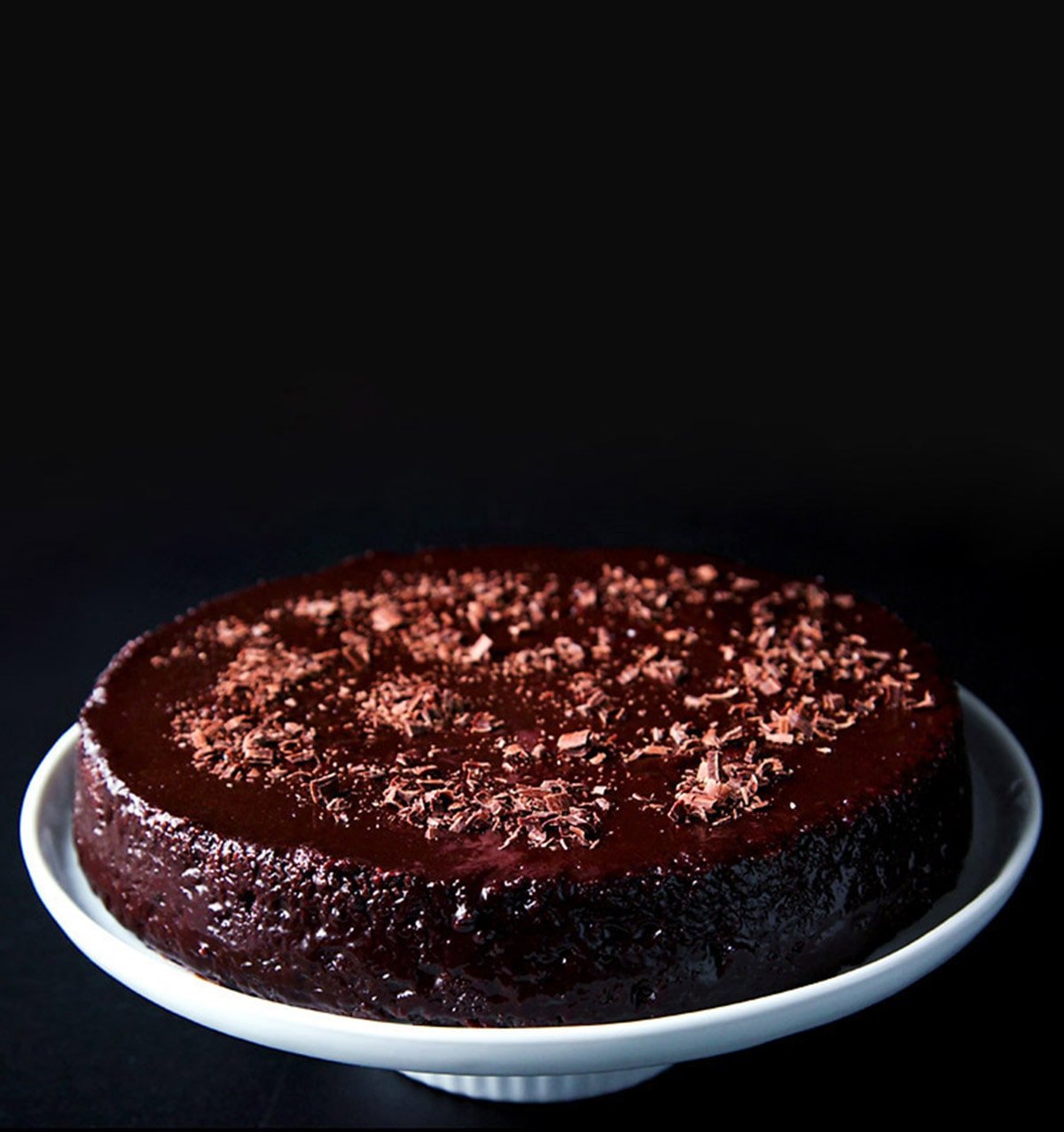 Ingredients & Possible Substitutions for Chocolate Cake Recipe
Cocoa Powder: The most important ingredient contributing to the flavor of the eggless chocolate cake is cocoa powder. It is important to use a good quality, naturally processed cocoa powder as this will affect the overall taste and consistency of the cake. Do not use dutch-process cocoa powder, or you might end up with a dense, stodgy result.
Whole Wheat Flour: This vegan chocolate cake is incredibly light and soft. If you were only to judge the cake based on texture, you would never guess that it was made with whole wheat flour.

That said, the choice of healthy whole wheat flour will provide an almost nutty flavor in the cake. This recipe has been tried and tested with the Indian wheat flour (used to make roti) and the wheat flour available in USA and Europe. Use any good quality whole wheat flour. You can also opt to substitute all-purpose flour instead.
Baking Soda: The most important ingredient affecting the texture of the cake is the baking soda, so it is important that it is fresh. If the baking soda is not fresh or is past its shelf life, the cake will not rise.

Please note: Baking powder cannot be used instead of baking soda. You can use eno (fruit salt) instead of baking soda in this eggless chocolate recipe. I would suggest adding about ½ to ⅔ teaspoon of eno.
Lemon Juice: As explained earlier, the lemon juice is also crucial in causing the vegan chocolate cake to rise properly. However, if you don't have lemon juice, white vinegar or apple cider vinegar can be used for the same effect.
Oil: Use oil which has neutral flavors for the best result. For all my cake recipes, I always use sunflower oil as it is neutral and leaves no aftertaste in the cake. Other options include vegetable oil, corn oil, grapeseed oil or avocado oil. Oil also helps in making the cake soft and moist.
Flavorings: Vanilla powder can be added instead of vanilla extract. You can even add vanilla essence instead of vanilla extract.
Liquids: The only liquid I have added to the cake batter is water. Milk (dairy or vegan milks like almond milk, cashew milk or soy milk) can be added instead of water. Make sure that the milk is cold and chilled.
Sweeteners: For the sweeteners, you can opt to use raw sugar (like I have done) or swap in white sugar or brown sugar. You can also add jaggery, maple syrup, coconut sugar or palm sugar instead but the taste of the cake will be different. Avoid adding honey. According to Ayurveda, honey should not be heated as it becomes toxic.
Step-by-Step Guide for Chocolate Cake Recipe
How to Make Eggless Chocolate Cake Recipe
Prep Pan and Sift Dry Ingredients for Chocolate Cake Recipe
1. First grease a round baking pan of 7.5 inches diameter x 2 inches height with oil. Preheat your oven to 200 degrees Celsius (392 degrees Fahrenheit) for 15 minutes.
2. Sieve 1 cup whole wheat flour (you can also use all-purpose flour) and 3 tablespoons cocoa powder. Keep a plate or tray below the sieve.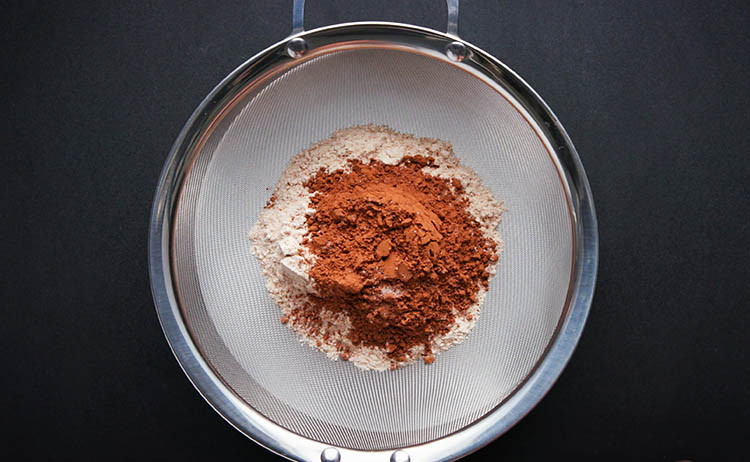 3. Add a pinch of salt and ½ teaspoon baking soda.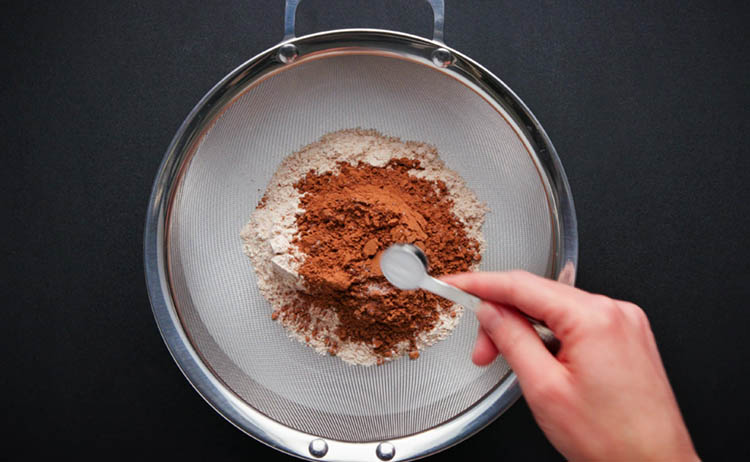 4. Sift the ingredients on to a plate.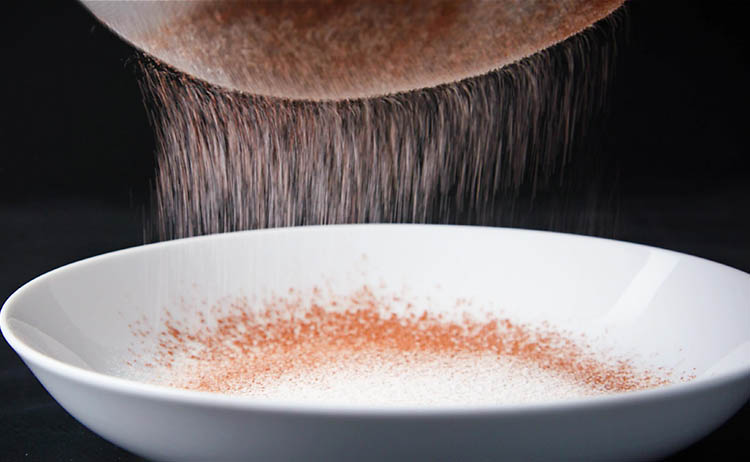 5. Keep the sieved dry ingredients aside.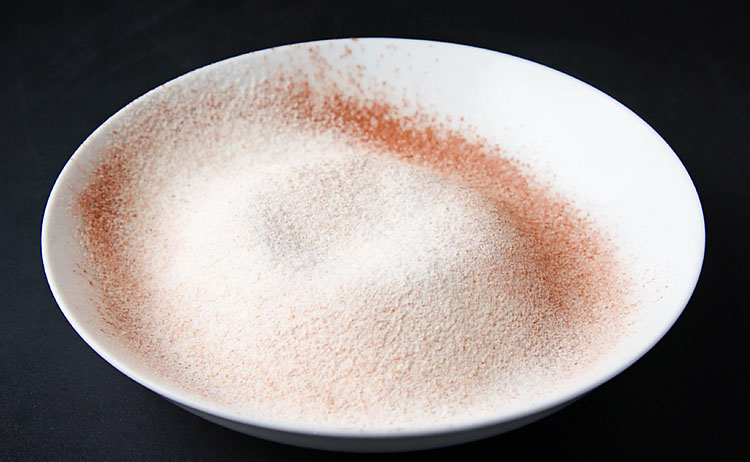 Make the Liquid Mixture for Chocolate Cake Recipe
6. In another pan or bowl, add ¾ cup sugar. I have used raw, unrefined cane sugar, however regular white sugar can also be used. Add 1 cup cold water. The water has to be very cold.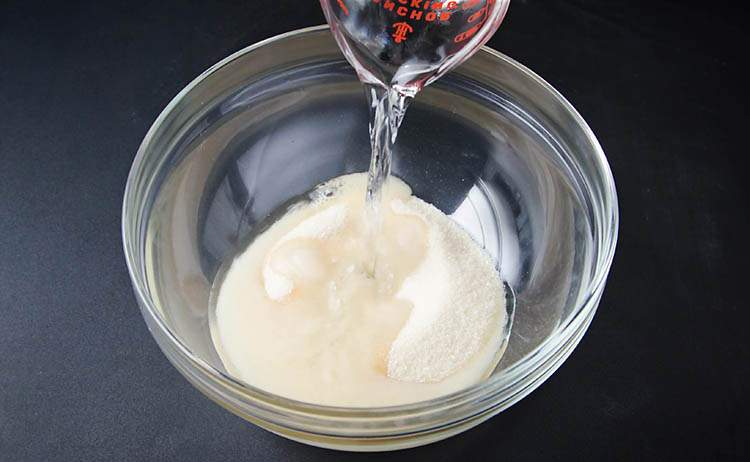 7. Stir with a small whisk till the sugar dissolves.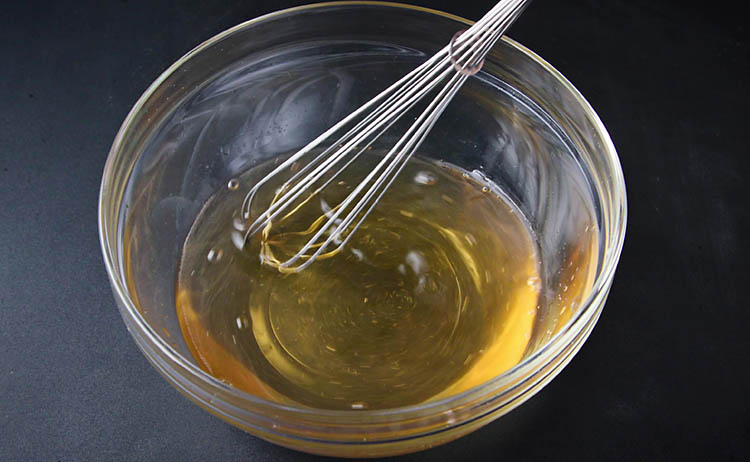 8. Now add ¼ cup oil. I added sunflower oil.
Note: I would not suggest adding butter as a few readers did tell me that the butter solidifies and it becomes difficult to get it to a homogenous mixture. Stick with oils that are not solid at room temperature for this cake.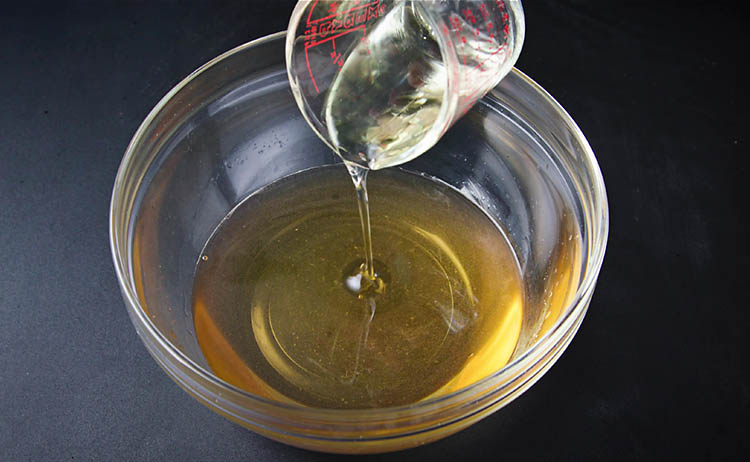 9. Stir briskly so that everything is mixed well.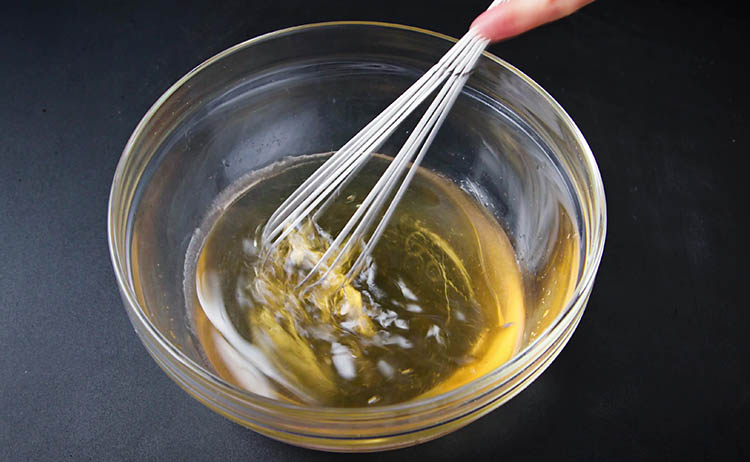 10. It should be a homogenous mixture.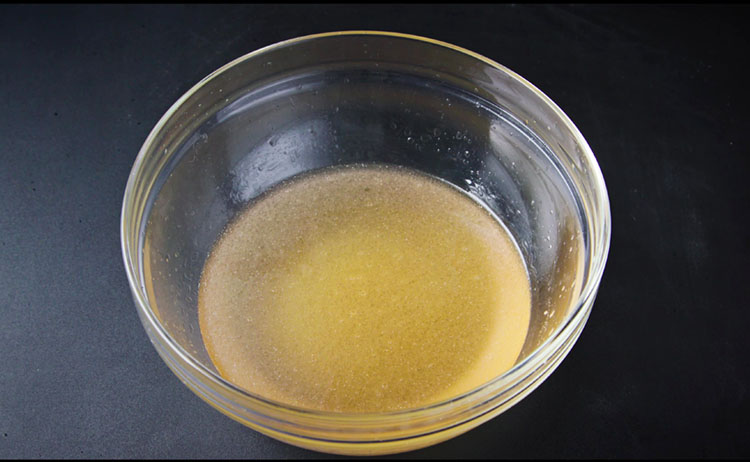 11. Next add 1 tablespoon lemon juice. Stir again.
Tip: No lemon? No problem. We just need something acidic here. You could use 1 tablespoon of apple cider vinegar or white vinegar in place of lemon juice.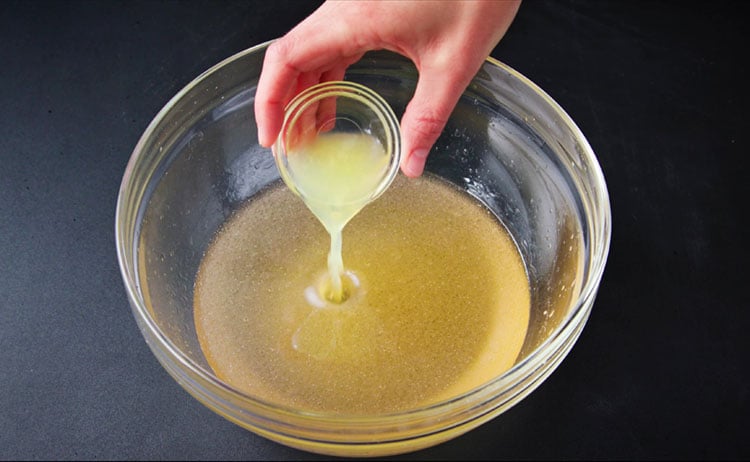 12. Now add ½ teaspoon vanilla extract. Feel free to add chocolate extract or chocolate essence instead of vanilla.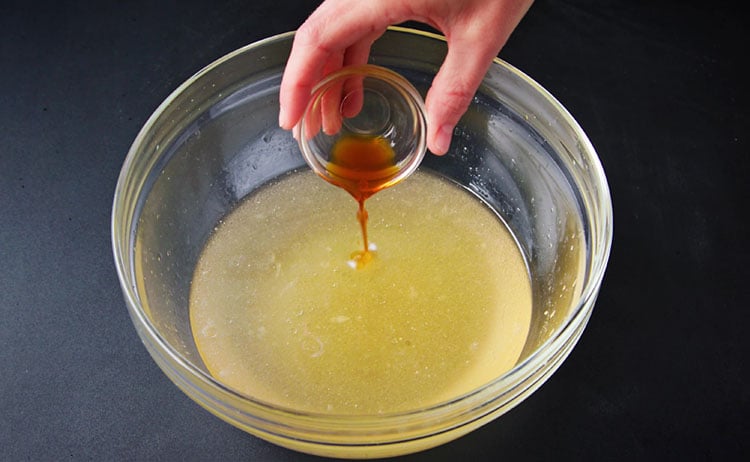 13. Mix very well.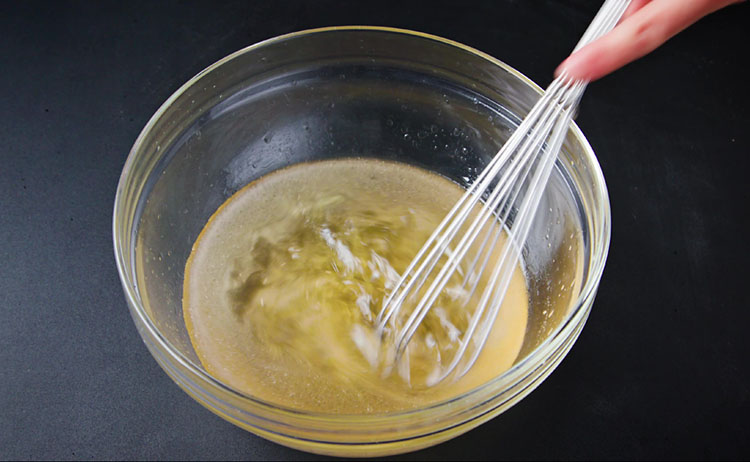 Make Chocolate Cake Recipe Batter
14. Add the sieved dry ingredients to the wet mixture.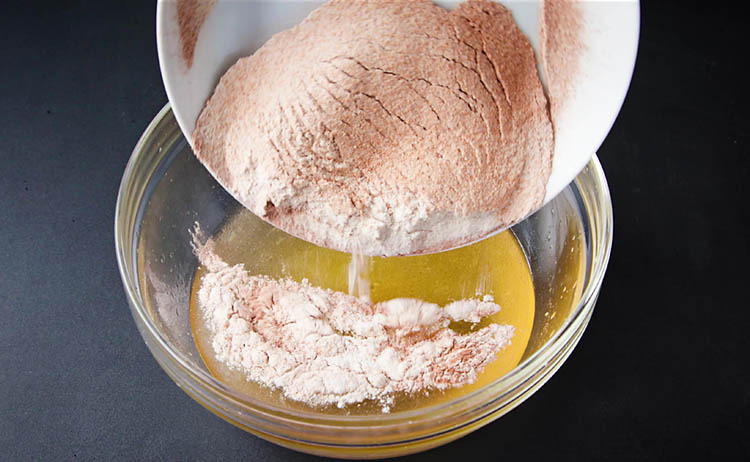 15. Using a wired whisk, mix everything well.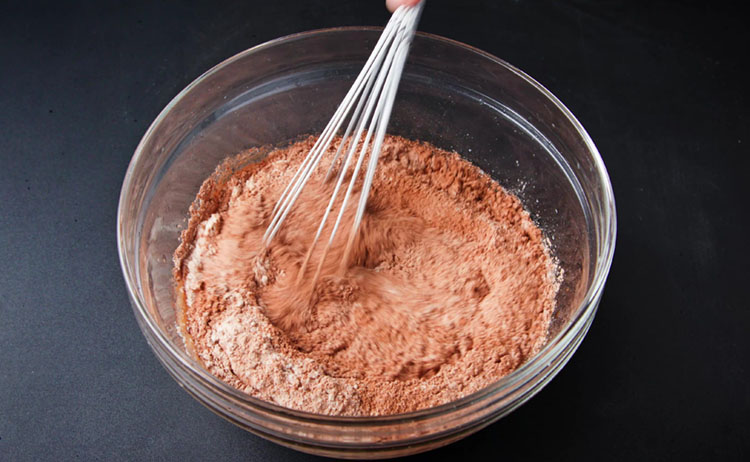 16. There should be no lumps in the cake batter. The batter should also be slightly thin, not thick like a brownie batter.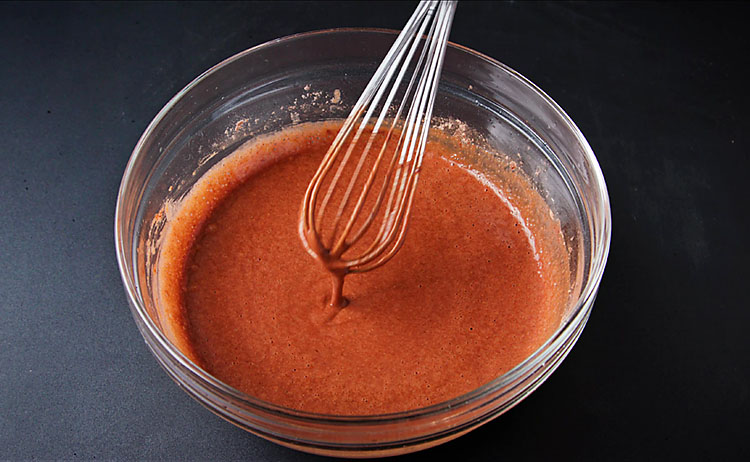 17. Pour the eggless chocolate cake batter into the prepared cake pan.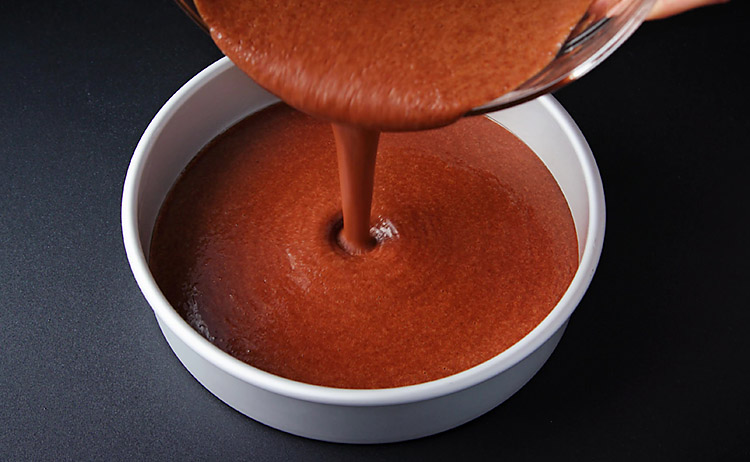 18. Tap the sides so that the extra air bubbles are let out.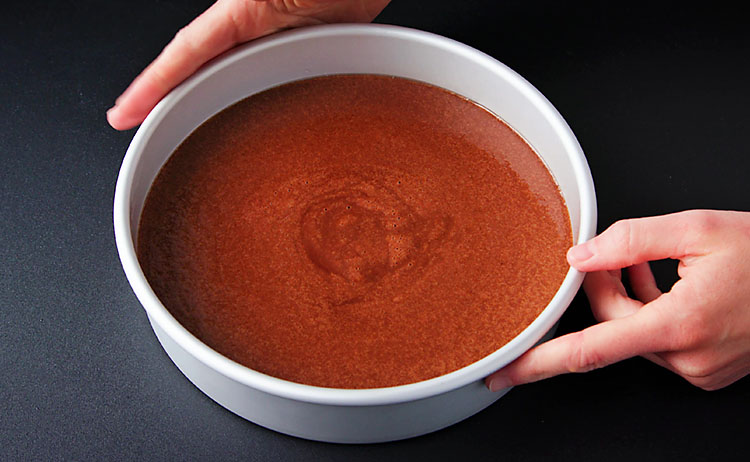 Bake Eggless Chocolate Cake Recipe
19. Bake the eggless chocolate cake in a preheated oven for 200 degrees Celsius (392 degrees Fahrenheit) for 35 to 40 mins.
Tip: For baking in a convection mode of a microwave oven, preheat the oven to 180 degrees celsius (355 degrees Fahrenheit) for 15 minutes. Then bake at 180 degrees celsius (355 degrees Fahrenheit) for 30 to 35 minutes.
Note: Since temperatures vary from oven to oven be sure to keep an eye on it. Do not open the oven door many times as this will cause your chocolate cake to sink in the center. Only open the door after three-fourth of the baking is done.
The temperature vary widely from oven to oven, which is why I recommend getting a stand-alone oven thermometer. Generally it takes 35 minutes for this cake to bake. But if your oven is very hot or cool, it will take less or more time for baking.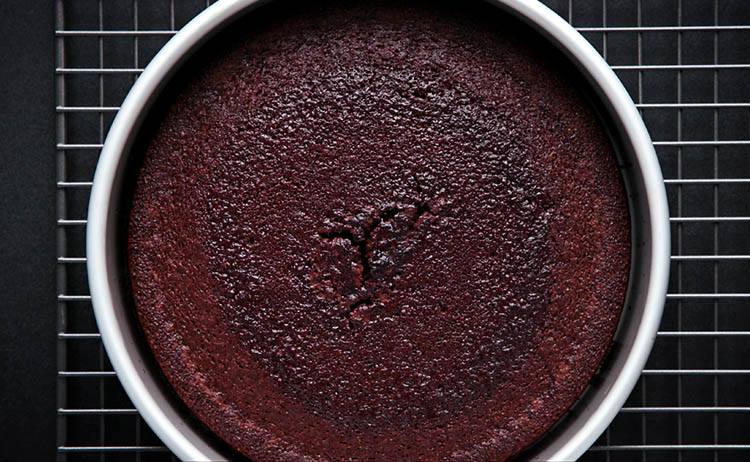 20. For doneness check the chocolate cake with a bamboo skewer or toothpick. The bamboo skewer should come out clean.
If the toothpick is sticky with the batter, then place the chocolate cake back in the oven and continue to bake for some more minutes.

Once the eggless chocolate cake cools down enough to handle, remove it from the baking tin and place it on a wired rack to finish cooling. Before frosting, let the cake cool completely.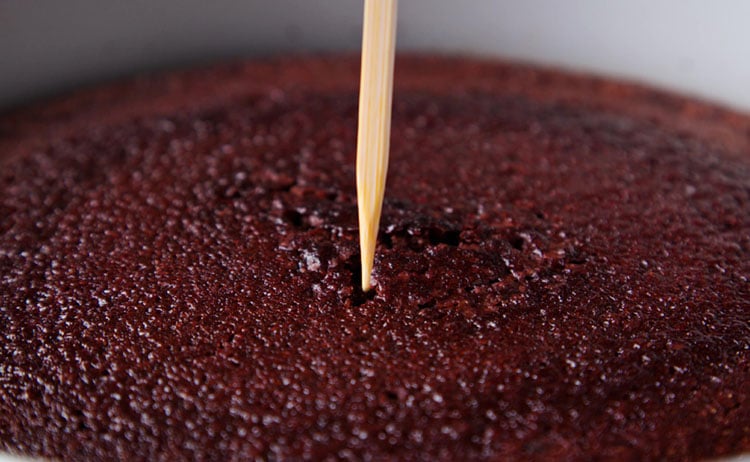 Make Cocoa Frosting
21. This frosting recipe makes for more of a thin chocolate glaze. Take 1 tablespoon sunflower oil, ¼ cup almond milk and ¼ cup raw sugar in a small saucepan.

Tip: If you prefer a slightly thick frosting, reduce the almond milk to just 2 tablespoons. You can substitute any dairy or alternative milk in place of almond milk.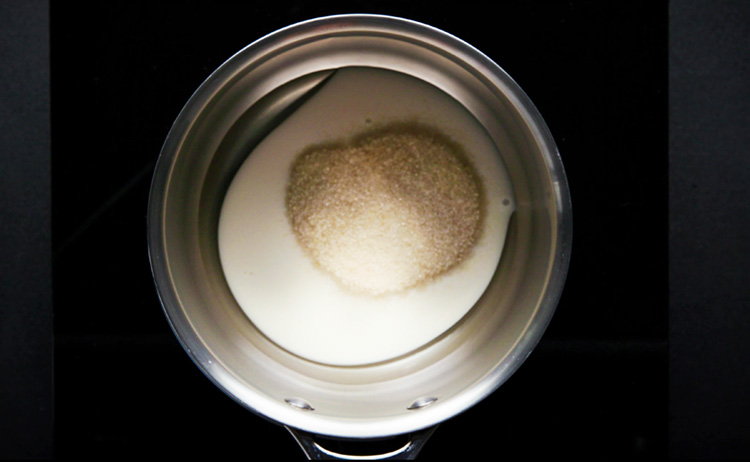 22. Begin to heat the pan on a low flame. Mix very well, continuing to stir, so that the sugar is dissolved into the milk. Do not boil the almond milk, but just make it lightly hot enough to dissolve the sugar.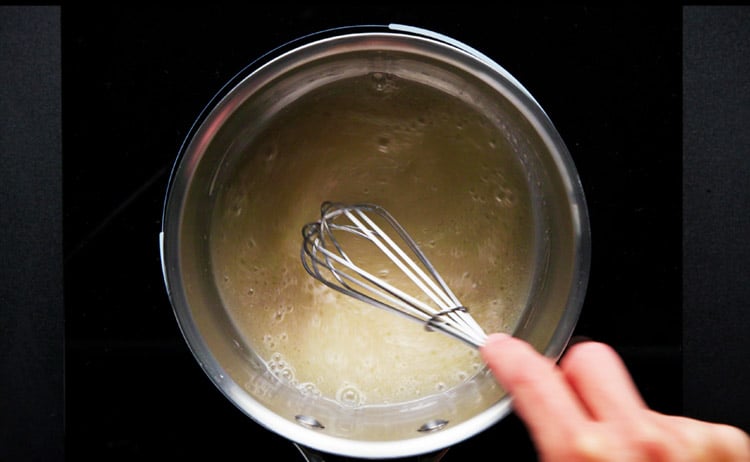 23. When the almond milk is just lightly hot and after all the sugar has been dissolved, add 3 tablespoons cocoa powder.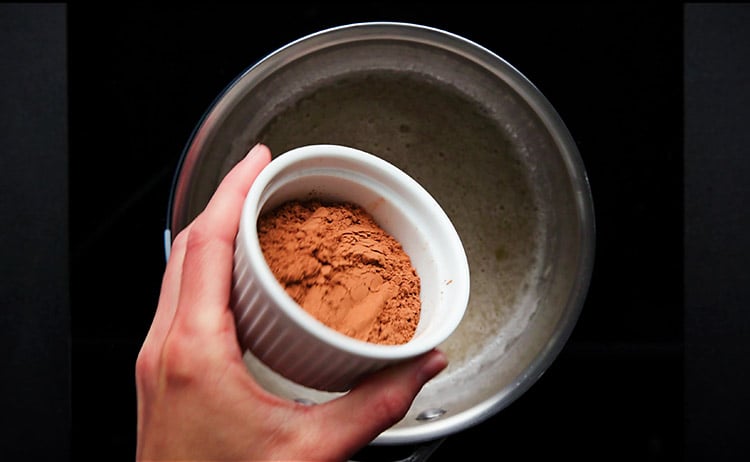 24. With a small wired whisk, mix and stir so that the cocoa powder gets mixed evenly.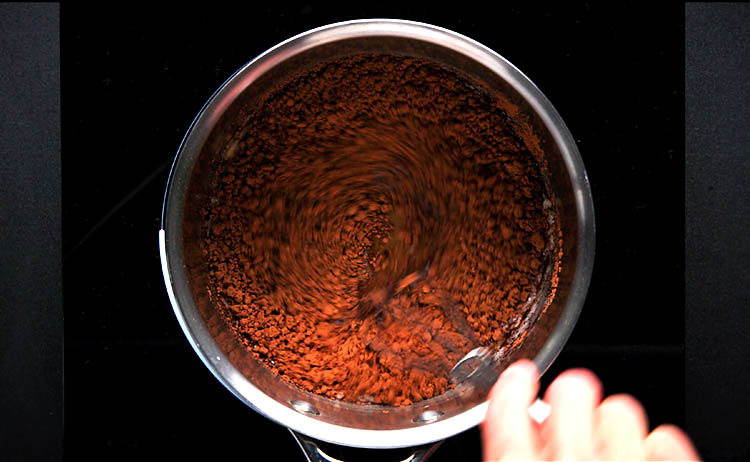 25. The cocoa frosting is ready now. Switch off the flame.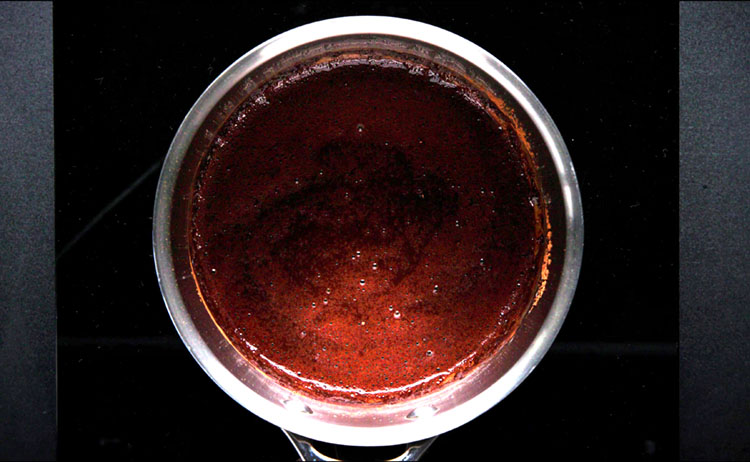 Frost Eggless Chocolate Cake Recipe
26. While still hot, pour the frosting on the top and sides of the eggless chocolate cake.
Tip: Usually I wrap a medium sized plate with aluminum foil and then place the cake on it. This makes the frosting work neater.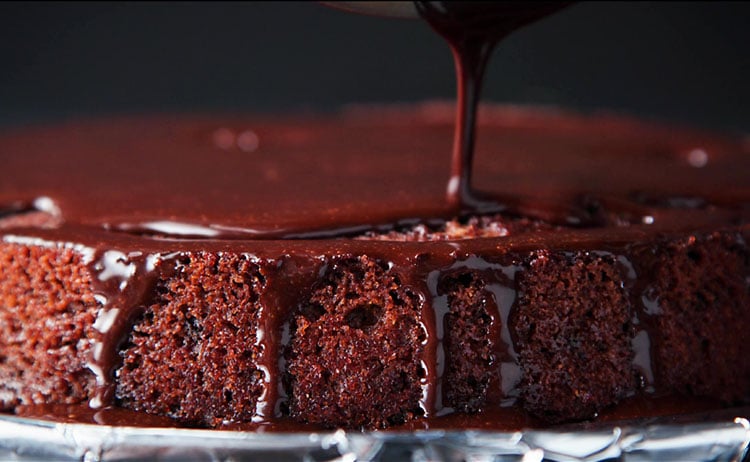 27. With an offset spatula, spread the icing evenly all over on top and the sides of the eggless chocolate cake. If you want a layer cake, you can slice the chocolate cake in half and spread frosting in the center and then on the top.
Keep the vegan chocolate cake covered in the fridge for the frosting to set for a couple of hours. I like to use a dome-shaped bowl to cover the cake. Make sure there is enough space between the cake and the bowl which you are using for covering.
The frosting will set after a few hours. I kept it in the fridge overnight.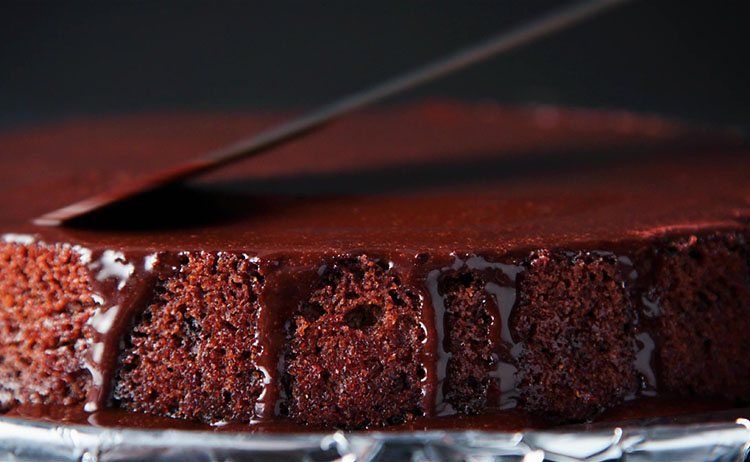 28. For a little added pizzazz, feel free to top your cake with some simple decor. I recommend chocolate shavings, sprinkles or sliced nuts. If they are in season, fresh berries are also a nice complement to chocolate cake.
If you want to make a more intricate design, try holding a doily over the top of the cake and sift icing sugar or cocoa powder over the top to look like lace.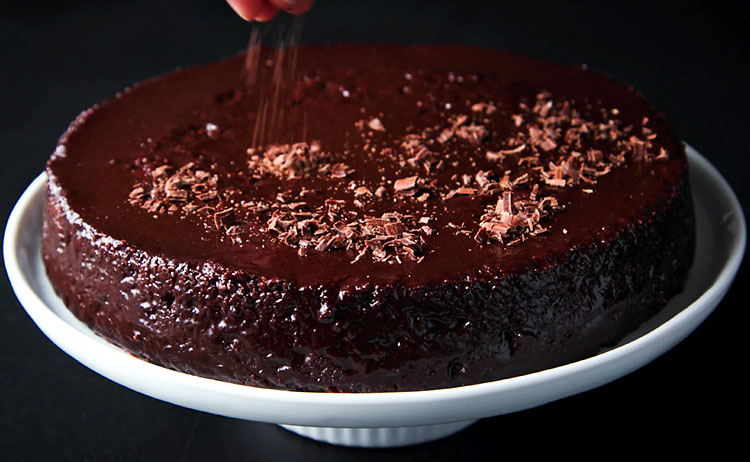 29. The eggless chocolate cake is ready to be served. Slice and enjoy!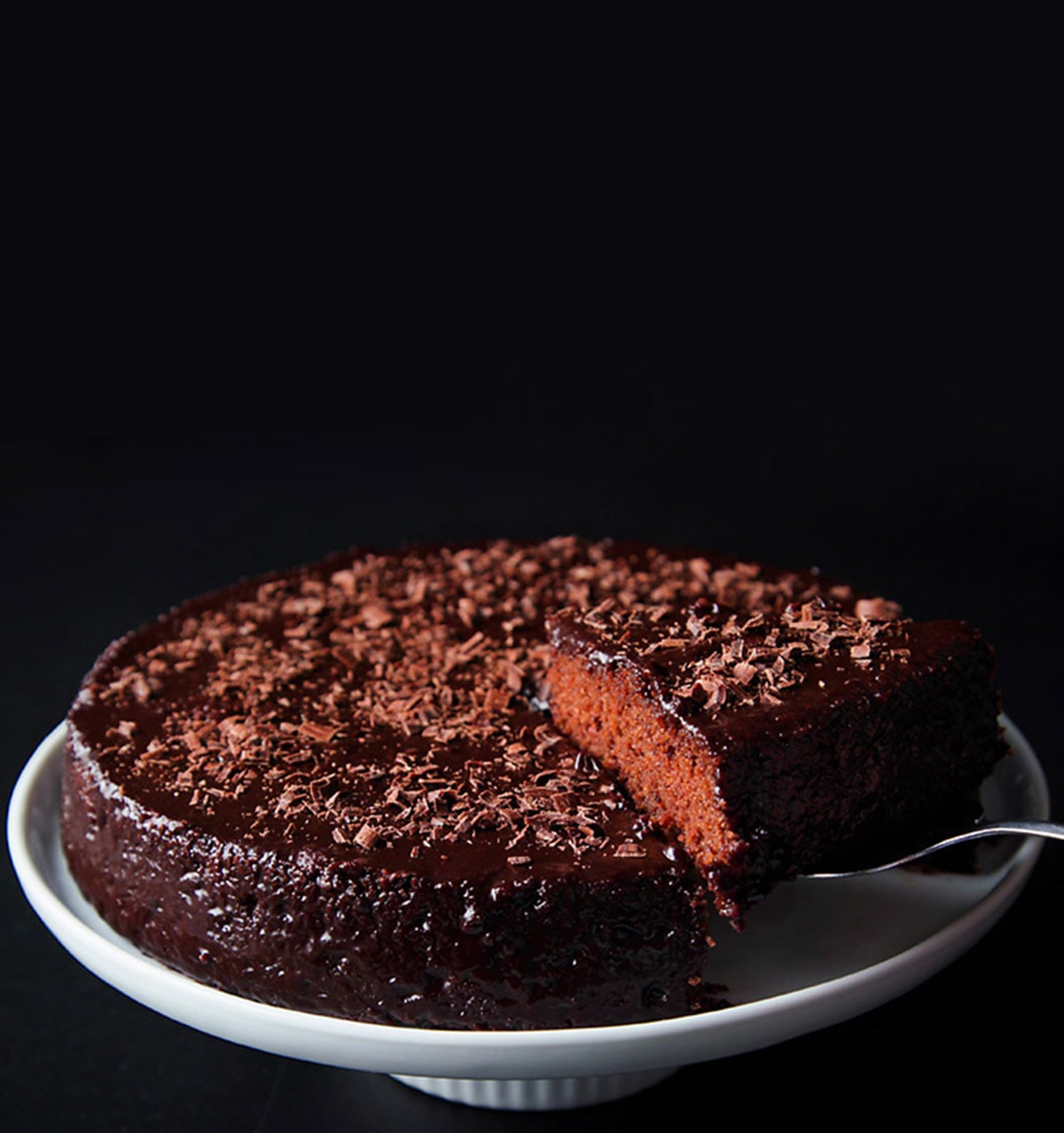 Serving Suggestions
Serve the chocolate cake as it is as an after meal dessert or whenever the chocolate craving strikes! It is simple enough to enjoy with your afternoon tea, and decadent enough to serve at a dinner party.
For a more luxurious treat, enjoy with a scoop of ice cream (vanilla, strawberry, coffee or mint chocolate chip would all be great) or some lightly sweetened whipped cream. You can also flavor your whipped cream if you prefer something outside of the traditional vanilla.
Storage
Place the remaining chocolate cake (whole or slices) in a covered box or container and refrigerate for up to a week.
Expert Tips for Chocolate Cake Recipe
Cooling the cake: Be sure to let the cake cool completely before frosting. If the cake is even slightly warm, the glaze will simply run off of the cake.
Oven thermometers: If you like to bake often, I recommend investing in a stand alone oven thermometer. Oven temperature gauges can vary widely, which can affect your bakes. By using an oven thermometer that you can calibrate yourself, you will have much better luck with all of your favorite recipes!
Variations: Feel free to use the eggless chocolate cake recipe as the base for any chocolate cake. Switch up the frosting flavors, add jam between two layers, or even use as the base for an ice cream cake.
Nuts: Want to add a little texture to your eggless cake? Feel free to add up to a cup of chopped, roasted nuts, chocolate chips or dried fruit to the cake. Simply dust them in flour prior to adding to the batter to prevent them from sinking to the bottom.